Cookie-Einstellungen
Diese Website benutzt Cookies, die für den technischen Betrieb der Website erforderlich sind und stets gesetzt werden. Andere Cookies, die den Komfort bei Benutzung dieser Website erhöhen, der Direktwerbung dienen oder die Interaktion mit anderen Websites und sozialen Netzwerken vereinfachen sollen, werden nur mit Ihrer Zustimmung gesetzt.
Diese Cookies sind für die Grundfunktionen des Shops notwendig.
Kundenspezifisches Caching
Diese Cookies werden genutzt um das Einkaufserlebnis noch ansprechender zu gestalten, beispielsweise für die Wiedererkennung des Besuchers.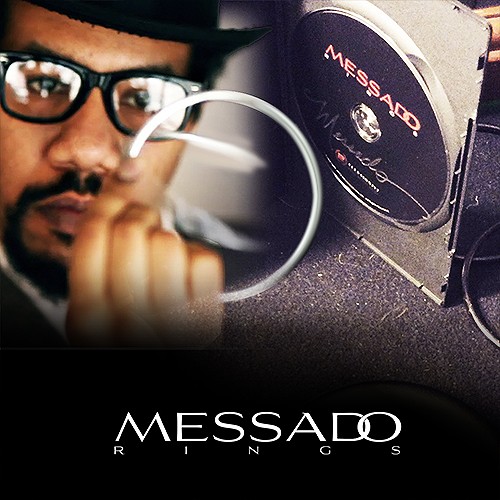 Cet article est indisponible actuellement
FIRST SHOWN AT MAGIC LIVE IN AUGUST, THE MESSADO RINGS COMPLETELY SOLD OUT DURING THAT INITIAL...
plus
Informations sur le produit "Joshua Messado - Messado Rings DVD"
FIRST SHOWN AT MAGIC LIVE IN AUGUST, THE MESSADO RINGS COMPLETELY SOLD OUT DURING THAT INITIAL RELEASE!
"My name's Mr Messado, I'm going to show you the magic of Messado's rings. Are you ready? Gather round let me show you something cool."
So starts the most phenomenal performance of the Linking Rings we've ever seen. At 6ft tall, with a top hat, bow tie and pocket-watch, Messado stands out on the streets of New York - but it's his sheer class with a set of rings that stops spectators in their tracks. Despite a startling series of flourishy links, unlinks and displays in his solo performance, it's Messado's involvement of the spectators that really shines - taking the linking rings from a detached exhibition of stage magic to a totally engaging close-up experience. 
Even David Copperfield is a fan of The Messado Rings - taking the time to congratulate Joshua Messado for the stunning moments of bewilderment created in the mind of the spectator, when the rings simply melt through each other on the tip of the spectator's finger. 
Messado's involvement of the spectator is not something that is simply tacked onto the end of a linking rings performance. This routine makes the spectator central to the magic - from sticking out a finger to unlink the rings at their very touch, to physically holding a ring and crashing it through another - linking them in their own hands - the magic happens just inches away from their nose. 
This is a routine that builds, rather than flatlines, with the rings linking and unlinking under increasingly impossible conditions. Messado's performance involves rings that jump to join others, links that happen in midair- even links that seem to defy gravity. 
While Messado shares his full routines as he performs them on the DVD, teaching each move in context, he also encourages you to choose those moves that appeal to you and your own style - and being completely modular, you're able to develop your own routine. 
On the DVD
When it comes to teaching, Messado holds nothing back. Even if you've never touched a key ring in your life, Messado will have you performing like a master in just a few hours. He teaches his full routine - from start to finish, from the most basic single link through to his wrap-up flourish display, in stunning and meticulous detail. 
BASICS:
The Messado Rings
Messado Display
The Key Ring
Practice
ROUTINES:
Spectator Routine
Wrap Up Routine
Live Performances
Tips
LINKS:
Key Ring Link
Double Rings Link
Centrifugal Link
Flipping Link
Silent Link
Quad Link
Spinning Jumper Link
UNLINKS:
Basic Unlink
Spectator Unlink
Silent Unlink
Centrifugal Unlink
ADVANCED TECHNIQUES:
Matrix Spin
Nunchucks
Impossible Jumper
Karate Kid
It's not often that we are totally blown away by a trick where the method is so universally known. But in Messado's hands the linking rings stop being a 'trick' and they become something we never thought could be said about rings: They become cool!
• Ellusionist quality.
Liens supplémentaires vers "Joshua Messado - Messado Rings DVD"
Lire, écr. et débatt. des analyses…
plus
Évaluations de clients pour "Joshua Messado - Messado Rings DVD"
Écrire une évaluation
Les évaluations sont publiées après vérification.
Derniers articles consultés