Cookie-Einstellungen
Diese Website benutzt Cookies, die für den technischen Betrieb der Website erforderlich sind und stets gesetzt werden. Andere Cookies, die den Komfort bei Benutzung dieser Website erhöhen, der Direktwerbung dienen oder die Interaktion mit anderen Websites und sozialen Netzwerken vereinfachen sollen, werden nur mit Ihrer Zustimmung gesetzt.
Diese Cookies sind für die Grundfunktionen des Shops notwendig.
Kundenspezifisches Caching
Diese Cookies werden genutzt um das Einkaufserlebnis noch ansprechender zu gestalten, beispielsweise für die Wiedererkennung des Besuchers.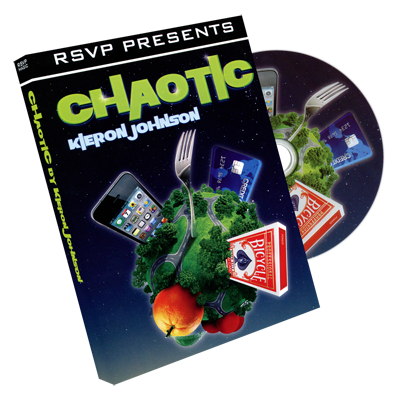 Prezzi incl. IVA più spese di spedizione
Pronto per la spedizione di oggi,
tempo di consegna ca. 1-3 giorni lavorativi
Chaotic by Kieron Johnson and RSVP Magic Welcome to Chaotic the brand new project...
altro
Informazione prodotto "Chaotic by Kieron Johnson and RSVP Magic"
Chaotic by Kieron Johnson and RSVP Magic
Welcome to Chaotic the brand new project from Kieron Johnson. Kieron, creator of RSVP's best selling trick of 2012, To the Max, invite you to join him and he preforms and explains nine of his favorite routines. All are from his current working set and are audience tested in the real world. This really is material that you WILL use.

CIO- Kieron's take on the classic card in orange routine. What sets this apart is that the spectator rips the corner off of the chosen torn card and keeps it. It matches, exactly, the card that is inside the orange! Brilliant stuff and real worker!

Lollypop - Kieron's favorite opening trick, either preformed fast or as part of a unique prediction. Where the magician produces a thought of object in a flash of fire!

Stop Kicking Me - A sure fire classic in the making. A video is shown of the magician holding a face down card on his phone. A playing card is now freely chosen (no force) and the spectator now plays the video that was paused only moments before. When the magician in the video turns over the card he is holding. It's the freely chose card! A real reputation maker!

Borrowed Phone in Balloon and Wallet - A borrowed phone penetrates inside a balloon. The balloon is burst and the phone is removed. The balloon is now restored magically and the phone now vanishes visibly, appearing inside your wallet that has been sitting on the table throughout! Mind-Blowing, reputation making magic that will get you repeat bookings.

Chaotic FKS - Kieron's unique take on the art of fork bending, including a unique moment where the fork actually twists in the spectators own hand. Unreal.

Transcend - A superb rising card that can use a borrowed deck and two glasses. The freely chosen card rises completely under your control and inside the covered glasses. This is one that your audience will talk about, long after you're gone!

Bigger - Kieron's unique take on the Sponge Balls that can play close up or on stage.

The 4 Rules of Magic - A quick opening routine that is snappy and above all, amazing

Credit Card - A unique way to reveal a chosen playing card on your actual credit card!

The Devils Triumph - Kieron's take on the classic plot that's unlike any other!
Link correlati a "Chaotic by Kieron Johnson and RSVP Magic"
Leggere, scrivere e discutere recensioni...
altro
Valutazione cliente per "Chaotic by Kieron Johnson and RSVP Magic"
Scrivi una valutazione
Le valutazioni vengono attivate dopo la verifica.