Cookie-Einstellungen
Diese Website benutzt Cookies, die für den technischen Betrieb der Website erforderlich sind und stets gesetzt werden. Andere Cookies, die den Komfort bei Benutzung dieser Website erhöhen, der Direktwerbung dienen oder die Interaktion mit anderen Websites und sozialen Netzwerken vereinfachen sollen, werden nur mit Ihrer Zustimmung gesetzt.
Diese Cookies sind für die Grundfunktionen des Shops notwendig.
Kundenspezifisches Caching
Diese Cookies werden genutzt um das Einkaufserlebnis noch ansprechender zu gestalten, beispielsweise für die Wiedererkennung des Besuchers.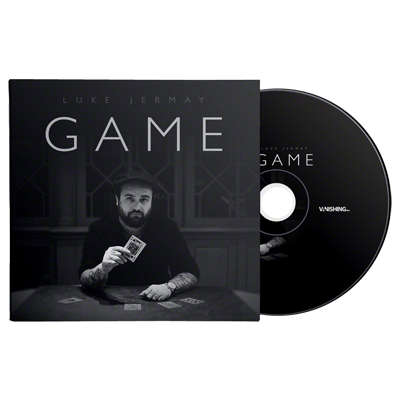 Prezzi incl. IVA più spese di spedizione
Pronto per la spedizione di oggi,
tempo di consegna ca. 1-3 giorni lavorativi
Numero Ordine:

GAMEJERMAY
Roberto Giobbi, Michael Weber, R. Paul Wilson, Daniel Madison, John Archer, Asi Wind haben...
altro
Informazione prodotto "GAME by Luke Jermay and Vanishing Inc."
Roberto Giobbi, Michael Weber, R. Paul Wilson, Daniel Madison, John Archer, Asi Wind haben Jermays "GAME" gezeigt und jetzt bist Du an der Reihe ... "GAME" ist Jermays professioneller Umgang mit Dai Vernons Klassiker "Trick That Can not Explained"
Jermays "GAME" legt bzw. bringt dieses bisher undurchsichtige, herausfordernde und schwierige Konzept auch den Anfängern in die Hände - in Deine Hände!
Alle Einzelheiten zur Aufführungen mit Deinem eigenen Deck, einem geliehenen Deck etc. - alternativen Handgriffen und viele anderes mehr zeigt er auf dieser DVD.
Ein gemischtes Deck. Eine unmögliche Vorhersage. Mit "GAME" haben sich die Regeln geändert.
"Luke Jermay is as devious as he's clever, and he's a Master at complication - with this take on TTTCBE he might just fool the Devil..."
- Roberto Giobbi

"Intelligent magicians will want to read and learn everything Luke Jermay is willing to share, and the really intelligent ones don't have to be told."
- Michael Weber

"Jermay's GAME is the real deal: deceptive, practical AND impossible."
- R. Paul Wilson

"Jermay is a master at constructing powerful plots packed with interest and theatricality that fool audiences badly. This is masterclass."
- Asi Wind

"Clever and fooling! With layers of devious principles and a great hook, Jermay has created an ingenious twist on a classic effect."
- John Guastaferro

"Once again, Jermay demonstrates how an intriguing and captivating presentation takes a simple plot from a 'that's cool' climax to an 'OMG! NFW!' moment."
- Nicholas Einhorn

"In typical Jermay style, this routine is an absolute, deeply fooling, winner."
- Doug McKenzie

"When I saw Luke perform 'Game' I was totally fooled...the handling is so clean...the effect so impossible. This is seriously deceptive!"
- Marc Paul

"Being genuinely fooled by magic is a wonderful thing. Luke seems to do this effortlessly ... I have no idea how GAME works. I think I'd prefer to keep it that way. Fantastic."
- Wayne Houchin

"There are many tricks you can do, but very few will actually be remembered by your audience. Luke generously decided to share his version of the "Trick That Can't be Explained"... I prefer to call it the trick that won't be forgotten!"
- Luis DeMatos

"Luke has created a perfectly impossible moment; bridging the ultimate gambling demonstration with something mystifying that simply cannot be explained."
- Daniel Madison

"Jermay brings his brilliant thinking to bear on one of card magic's great under-performed effects. Well that's about to change, since what Jermay has brought to the table brings this fantastic trick into the reach of every single magician. Classic Jermay."
- Mark Elsdon

"Those who think of Luke Jermay as "only" a mentalist severely underestimate his all-around magical skills and knowledge-particularly with playing cards. This routine proves that Luke can sit at a card table with the best of them."
- John Lovick

"I have watched "GAME" over and over and over. I'm fooled each and every time. I want this all to myself."
- Robert Smith

"If you are reading this, I'm confident that you are now amongst the good company of the many others that this has fooled. A truly masterful piece, performed by a true master."
- Chris Rawlins

"By putting a lovely theatrical frame around complex ideas, Jermay finds a bit of drama and wonder in what is often a dry card trick."
- Eric Mead

"In Jermay's GAME you'll perform an impossible prediction effect with surprisingly little work! No gambling knowledge is required in this gambling themed effect, i.e. all of the drama with none of the boredom, amazing!"
- Tom Stone

"I love being fooled by Luke Jermay - he could almost be a 21st-century Jedi Knight when it comes to playing tricks with people's minds. His performance of "The Trick that cannot be Explained" left me completely bewildered by the outcome. One of the things I love about Luke's approach to card magic is that it appears to be lacking any kind of recognisable procedure and yet still the outcome is truly inexplicable. Having watched GAME I am left with the feeling I need to revisit this classic plot in preparation for adding Luke's thoughts and analysis to one of the most extraordinary concepts in card magic. Dai Vernon started the conversation, followed by the intervention and creative analysis of many other magicians over the years. I'm very excited that Luke has tackled this problem!"
- Michael Vincent

"Luke thinks about magic on another level and The Game is a perfect example of this. No detail has been left untouched."
- Chad Long

"Finally a version of the truck that cannot be explained that CAN be explained. 'Game' is practical, fun, and enormously fooling."
- Hector Chadwick
Link correlati a "GAME by Luke Jermay and Vanishing Inc."
Leggere, scrivere e discutere recensioni...
altro
Valutazione cliente per "GAME by Luke Jermay and Vanishing Inc."
Scrivi una valutazione
Le valutazioni vengono attivate dopo la verifica.